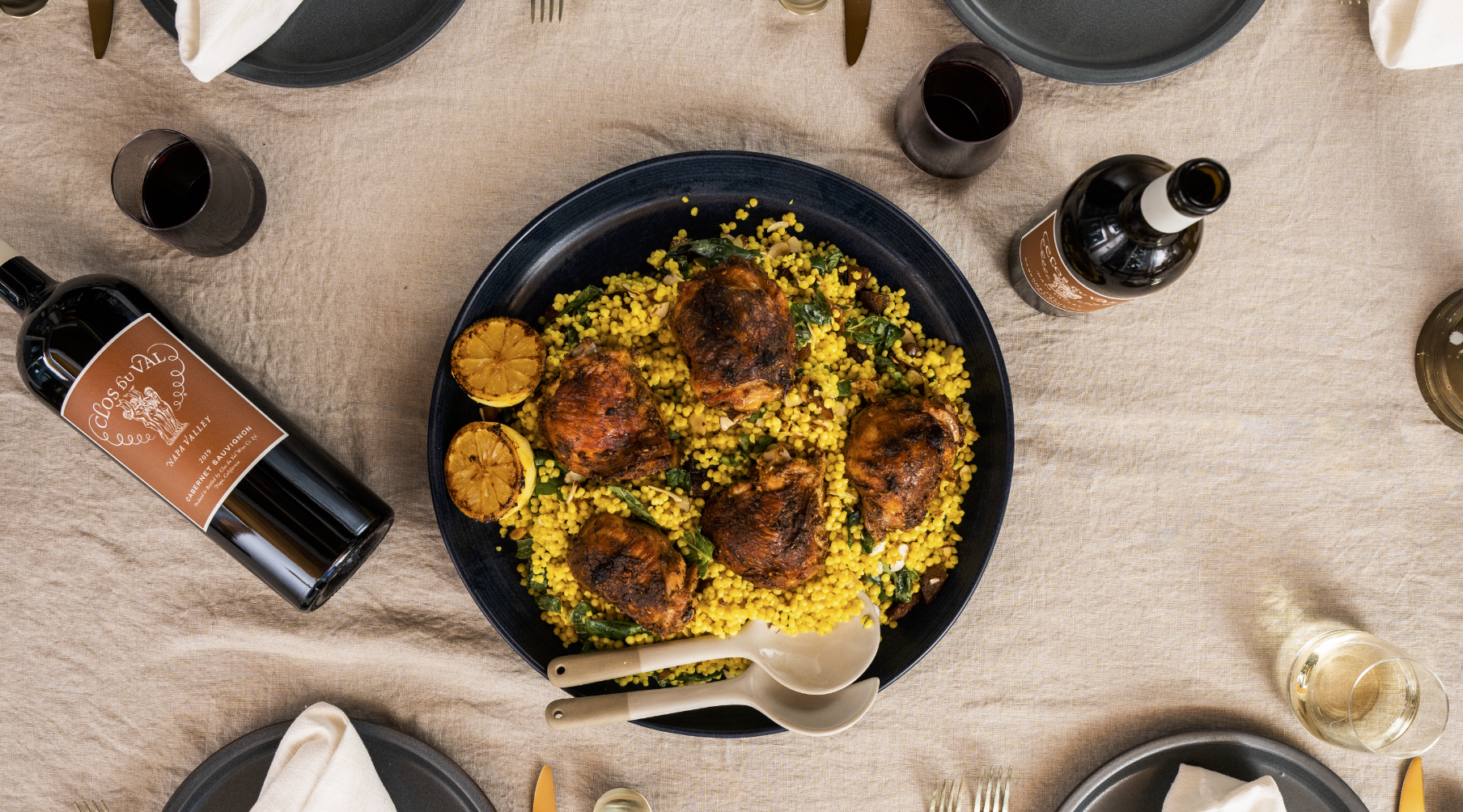 2021 Cabernet Sauvignon paired with Lebanese Roast Chicken & Israeli Couscous
Original recipe by Chef Helen Goelet, one of Clos du Val's third-generation owners.
Combining the nuances of fresh herbs, comforting couscous, and caramelized yogurt, this pairing delivers a balanced expression of familiar flavors with bursts of bold zest.
Ingredients
•
2 lbs bone-in, skin-on chicken
•
1
tbsp za'atar seasoning
•
4 cloves garlic, minced
•
1/4 cup fresh torn mint
•
1/4 cup fresh torn basil
•
1/2 cup apricots, roughly chopped
•
1 tbsp fresh lemon juice
•
4 tbsp Extra Virgin Olive Oil
•
1/4 cup shaved almonds, toasted
Instructions
1. Prepare the chicken marinade by combining all of the ingredients in a large bowl and stirring to combine. Cover and chill for 24 hours.
2. Preheat the oven to 350°F.
3. Arrange the chicken in a large skillet pan, skin side up, and cook until the skin is crispy, roughly 1 1/2 hours.
4. Cook the Israeli couscous off the directions on the box.
5. Toss the cooked couscous with mint, basil, apricots, lemon juice, zest,
olive oil, almonds, and salt and pepper. Adjust seasoning to taste.
6. Serve with the chicken and fresh lemon.