Harvest Q&A with Carmel and Ryan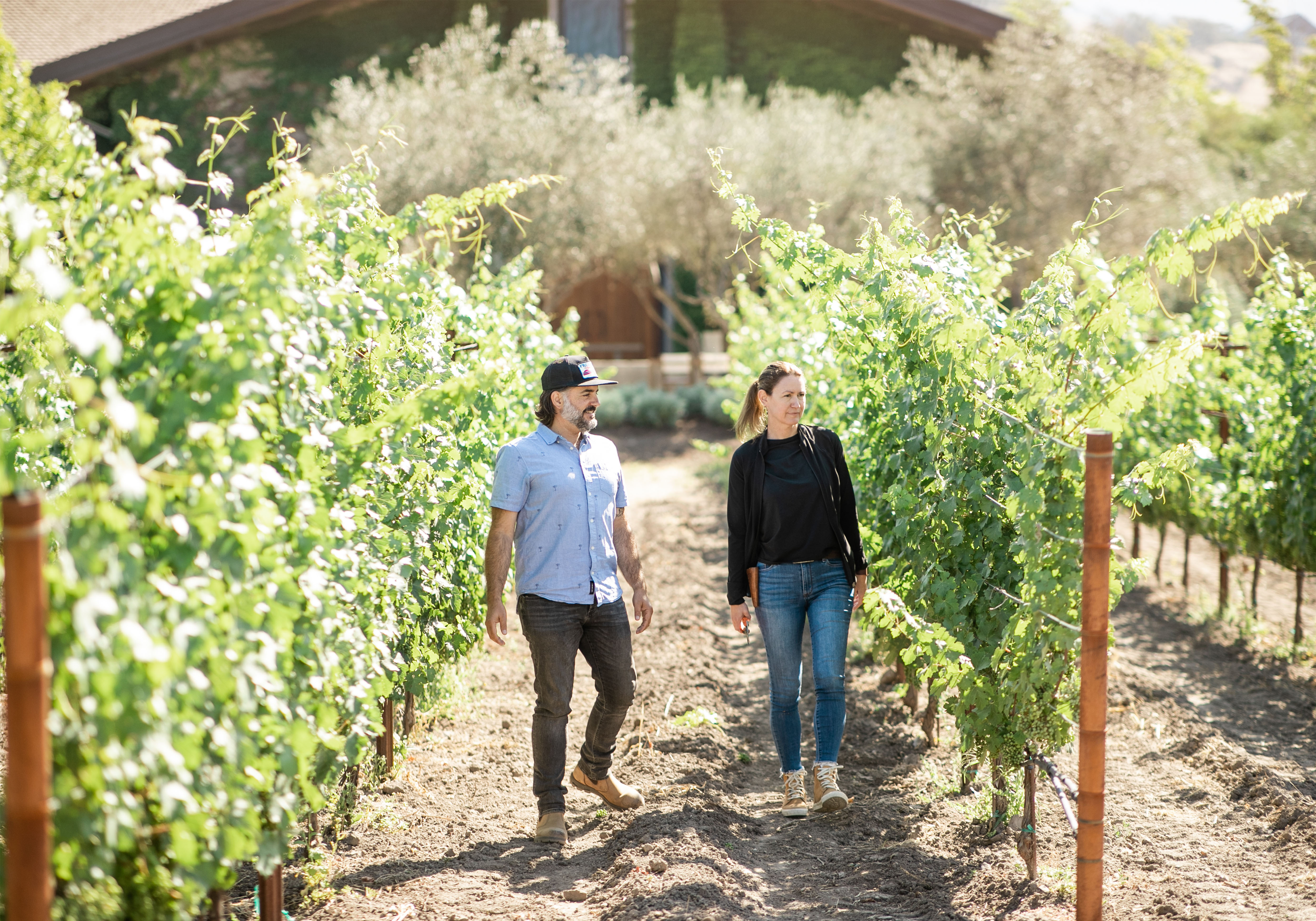 As the 2022 Harvest approaches, we sat down with our Winemaker, Carmel Greenberg and our Viticulture Manager, Ryan Decker to get the inside scoop on a day in the life and find out how they survive harvest season.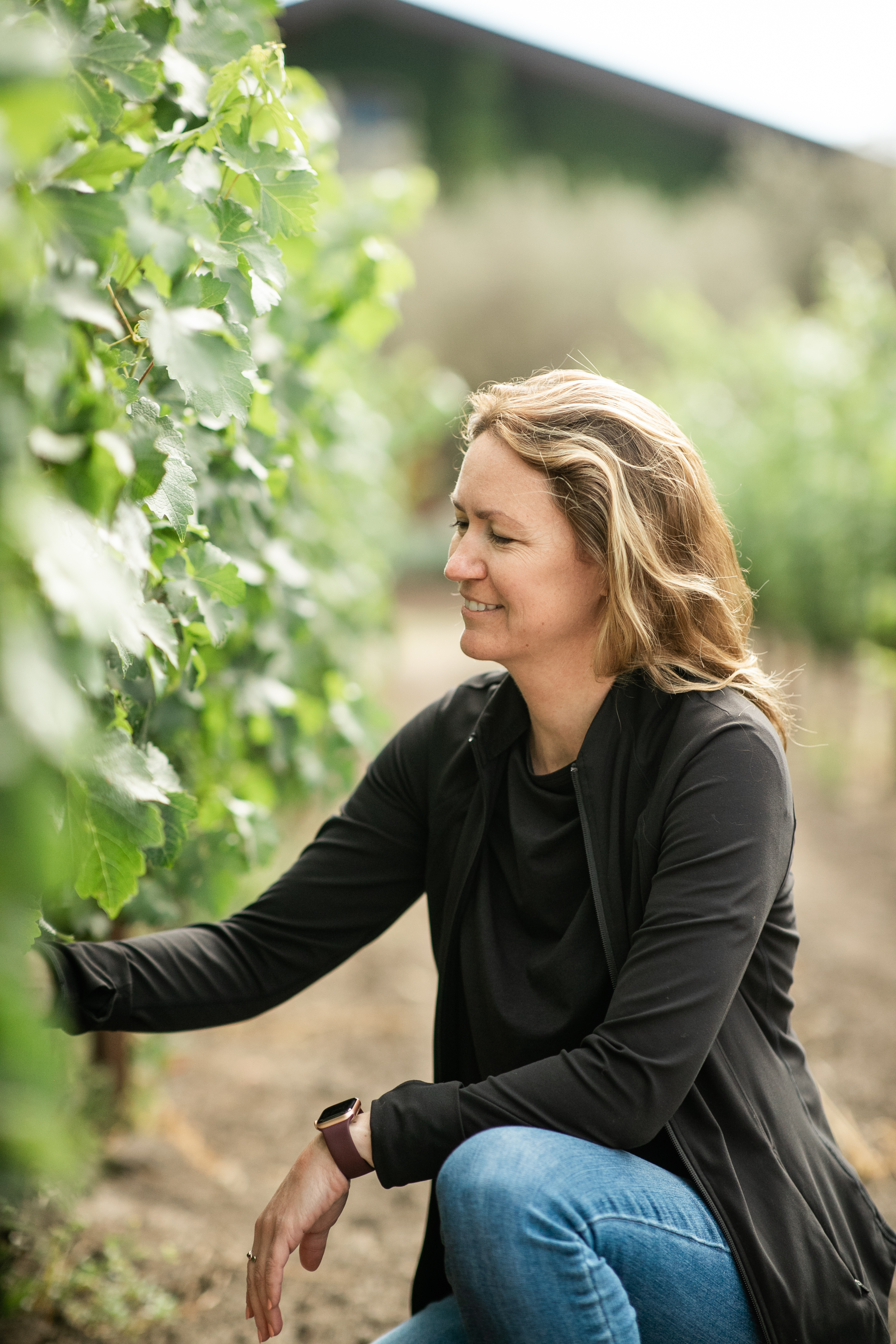 CARMEL
Q: DO YOU HAVE ANY HARVEST TRADITIONS?
We always do a pre-harvest BBQ with the entire CdV staff and raise a toast when our first grapes come in. At the end of the season, I take the cellar crew out for a nice lunch at Bottega, one of our favorite restaurants in Yountville.
AT THE END OF THE DAY THERE ARE GRAPES IN YOUR HAIR, CLOTHES, SHOES, EVERYWHERE.

– CARMEL GREENBERG
Q: WHAT'S A TYPICAL DAY LIKE FOR YOU DURING HARVEST SEASON?
I usually wake up at 5 a.m. and go straight to the vineyards to taste grapes and check on maturity. By 9 a.m., I'm back at the winery to oversee processing and sorting. In the afternoon, I taste through several tanks before sitting down to record pump overs, fermentation monitoring, etc.
Q: WHAT IS THE MOST CHALLENGING PART OF HARVEST?
No days off—I am constantly at the winery or in the vineyards, so I don't get to see my family very much. Sometimes I get the chance to bring my two daughters out to the vineyards with me. They love to taste grapes, and my oldest daughter, Eden, has even used a hydrometer to help me test Brix a few times!
Q: ARE THERE ANY MISCONCEPTIONS PEOPLE HAVE ABOUT HARVEST?
I think people romanticize it a bit. It's exhausting and you get really dirty. At the end of the day, there's grapes in your hair, clothes, shoes, everywhere. If you aren't careful about wearing gloves, your hands turn purple and the color can stay for months!
Q: WHAT KIND OF ADDITIONAL HELP DO YOU HAVE AT THE WINERY THIS TIME OF YEAR?
We usually hire five or six harvest interns, most of which are international. This year we have three coming from Argentina, one from France, and one is local here in the U.S.
Q: HOW DO YOU KEEP YOUR TEAM MOTIVATED DURING HARVEST?
We always say you need a lot of beer to make good wine! A lot of doughnuts and pizza, too.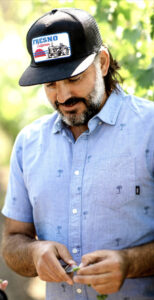 RYAN
Q: HOW DO YOU TYPICALLY START YOUR DAY DURING HARVEST SEASON?
My schedule usually revolves around night harvest. It can start anywhere between 10 p.m. and 2 a.m., depending on the size of the pick. I like to be there when they get started to make sure everything goes smoothly, so I either end my day at 10 p.m. or start my day at 2 a.m. On some days, I wake up at 1 a.m. to start night picking, and then stay until the next day's night pick starts at 10 p.m. At that point I sort of turn into an adrenaline zombie!
Q: WHAT ARE YOUR VINEYARD BAG ESSENTIALS?
My clippers, pocketknife, water jug, granola bars, note pad, sunglasses, hat, and ear buds.
NEVER WASH YOUR TRUCK DURING HARVEST, IT WILL BRING RAIN!

– RYAN DECKER
Q: WHAT KIND OF MUSIC DO YOU LISTEN TO ON THE JOB?
My playlist is wildly eclectic—I listen to everything from country and funk to rap and hip-hop, but my go-to is metal. The intensity keeps me going!
Q: DO YOU HAVE ANY HARVEST SUPERSTITIONS?
Never wash your truck during harvest, it will bring rain!
Q: WHAT IS YOUR GO-TO DRINK AFTER A LONG DAY IN THE VINEYARDS?
I'm a sucker for a good glass of wine, but I'll occasionally go for a Paper Plane or some kind of bourbon-based cocktail.