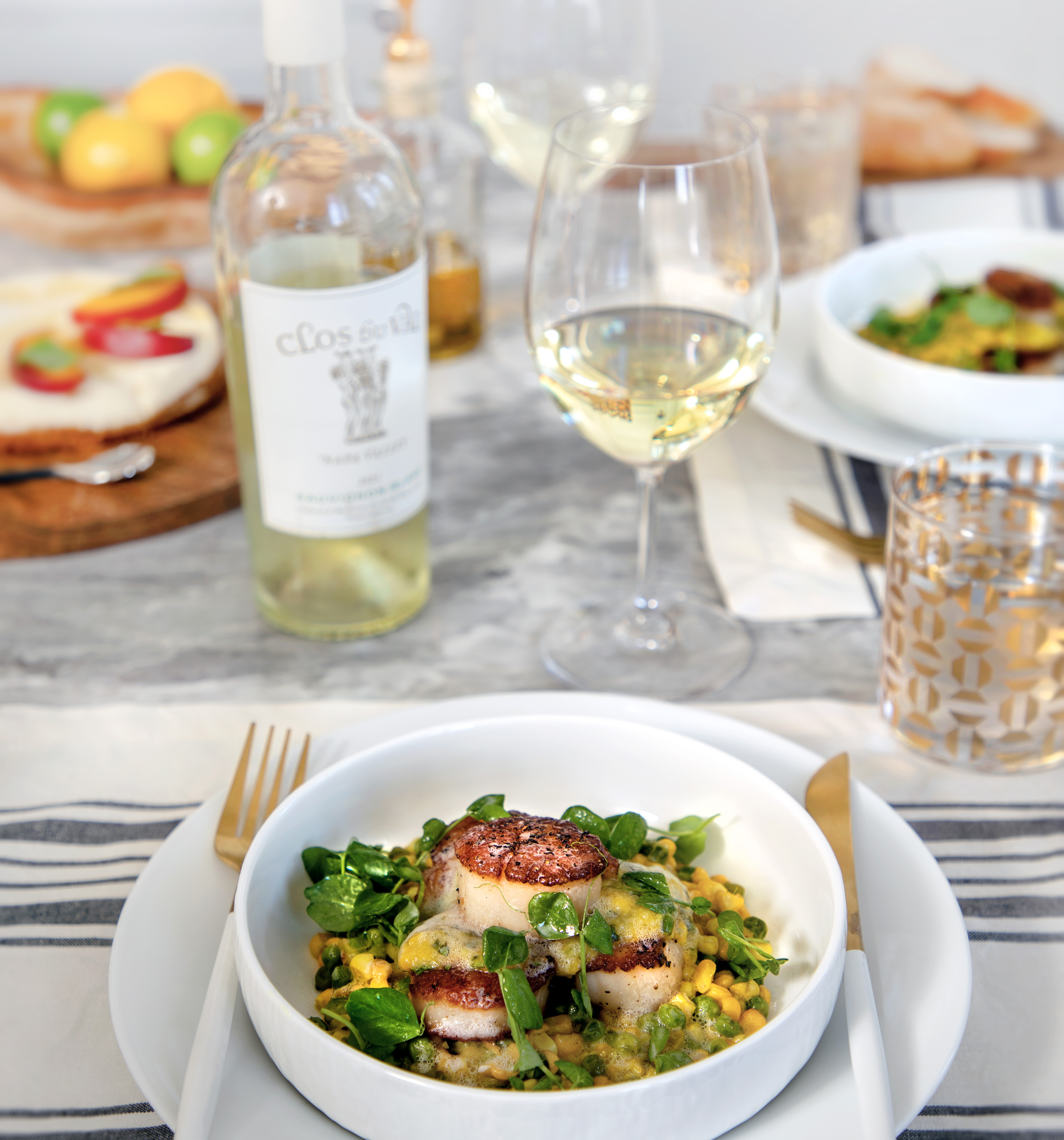 Seared Scallops with Coconut Creamed Corn, Sweet Peas, and a Mango-Lime Relish
Our fresh and vibrant 2021 Sauvignon Blanc is a perfect match for all things seafood. This original recipe by Chef Helen Goelet is a beautiful meal to share at your next al fresco lunch or dinner.
Serves 4
Serve with: 2021 Sauvignon Blanc
Ingredients
For the scallops and corn:  

12 Fresh U-10 Scallops

4 ears of fresh sweet corn, or 1 bag frozen

1 cup coconut milk 

1" fresh ginger, peeled and grated 

3 cloves garlic, minced 

1 red onion, thinly sliced 

1 serrano pepper, minced

1 cup frozen sweet peas

1 tsp turmeric 

½ tsp cumin 

½ tsp coriander 

½ lemon, juiced 

For the mango-lime relish: 

1 fresh ripe mango, skinned and cut into chunks

Zest of 1 lime 

Juice of 2 limes

1/4 cup fresh mint 

½ cup fresh cilantro

3 green onions

1 serrano pepper 

½ tsp fresh ginger, peeled

3 tbsp rice wine vinegar 

4 tbsp olive oil 

Salt 
Instructions
First, make the mango-lime relish by adding all ingredients into a food processor and mixing until chopped but not pureed. Set aside.

Cut the corn from the cob. Bring a medium-sized pan over medium heat. Add 2 tbsp olive oil or coconut oil, and

sautee

onion, garlic, serrano chili, and ginger until soft and fragrant. Add the spices and

sautee

for another minute, then add the corn and peas and

saute

for 5 more minutes. Add the coconut milk and lemon, stir to incorporate, and reduce the heat to low. 

Place a large pan over high heat. Add enough oil to just coat the bottom of the pan. Pat-dry your scallops, season well with salt and pepper, and place them flat side down on the pan. Make sure the pan is searing hot before you put your scallops down, otherwise you won't achieve that beautiful crisp sear. When you see the edge of your scallop brown, roughly 3-5 minutes, turn them over to sear on the other side for another 3-5 minutes. Serve over coconut creamed corn topped with the mango relish.
Chef Helen Goelet is one of Clos du Val's six family owners and shares her love of food and wine as a private chef based in Jackson Hole, Wyoming.